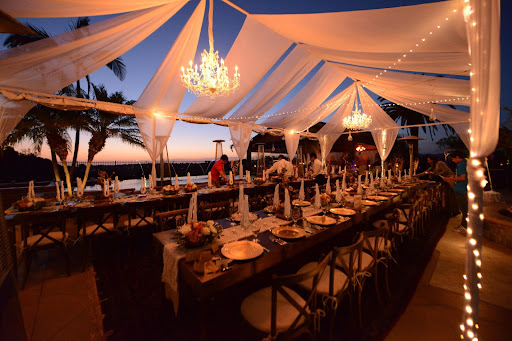 A bridal shower is a special occasion where friends and family gather to celebrate the bride-to-be and shower her with love and well wishes. Creating an elegant and memorable atmosphere for the event is essential, and one aspect that can make a significant impact is the seating arrangement. 
Classic Elegance with Chiavari Chairs
When it comes to timeless elegance, Chiavari chairs are a popular choice for bridal showers. These chairs feature a sleek and sophisticated design, often made from high-quality materials such as wood or resin. Available in a range of colors, Chiavari chairs can be customized to match the theme and color palette of the bridal shower. Their graceful silhouette and intricate details add a touch of refinement to any event, making them a perfect seating option for the bride and guests.
Luxury and Comfort with Lounge Seating
For a more relaxed and luxurious atmosphere, consider incorporating lounge seating into the bridal shower. Lounge furniture, such as plush sofas, ottomans, and coffee tables, creates cozy and intimate gathering spaces where guests can mingle and enjoy each other's company. This seating arrangement not only adds a touch of sophistication but also ensures the comfort of the bride and her guests. With an array of elegant and stylish lounge furniture options available for rental, you can effortlessly transform your bridal shower into a chic and inviting space.
Rustic Charm with Vintage Seating
If you're planning a bridal shower with a rustic or vintage theme, opting for vintage seating arrangements can enhance the ambiance and charm of the event. Antique wooden chairs, vintage sofas, or mismatched seating pieces can create an eclectic and nostalgic atmosphere that transports guests to a bygone era. Vintage seating options can be complemented with soft cushions and delicate fabrics to add a touch of comfort and elegance. Embrace the uniqueness and character of vintage seating to create a truly enchanting bridal shower experience.
When it comes to planning a bridal shower, attention to detail can truly make a difference in creating a chic and delightful atmosphere.  Choosing the right seating arrangement is key to ensuring the comfort and enjoyment of your guests. From classic Chiavari chairs to luxe lounge furniture and vintage seating pieces, there's a wide array of seating options available for rental that can transform any event space into a chic and inviting venue. With careful consideration and creativity, you can effortlessly create a beautiful bridal shower atmosphere that the bride and her guests will remember for years to come. 
Ready to transform your bridal shower into a chic and elegant affair? Contact our event rental services today to explore our wide range of seating options, including Chiavari chairs, luxurious lounge furniture, and vintage seating arrangements.